Latitude vil være den ideelle rejseledsager for dine kunder og klienter med 4 USB porte og et udvalg af 4 aftagelige stik. Vi kan printe dit logo eller slogan på to sider af vores Latitude USB rejseoplader, samt på fronten af det smarte etui den leveres i.
6 Dages Leveringstid. Vi samler, trykker og levere din ordre inden for denne korte deadline!
Farver
Hvid
Branding muligheder og print-areal

Printområdet angivet af

Venstre Område: 55mm X 40mm
Højre område: 55mm X 40mm
Trykområde top: 55mm X 25mm
Skærmprintning
Skærmprintning
Viser at produktet kan mærkes ved brug af en teknik kaldet 'silketryk'. Dette er den mest etablerede metode til at trykke på en genstand. Vore priser inkluderer altid silketryk i op til 4 farver på alle printarealer. Logo til opsætning på produkter med dette symbol bør sendes i vektor format så som .eps, .ai eller .cdr. Tekst og logo skal opsættes så alle skygger bliver til rene farver uden skygger eller farveovergange.
Sikkerhed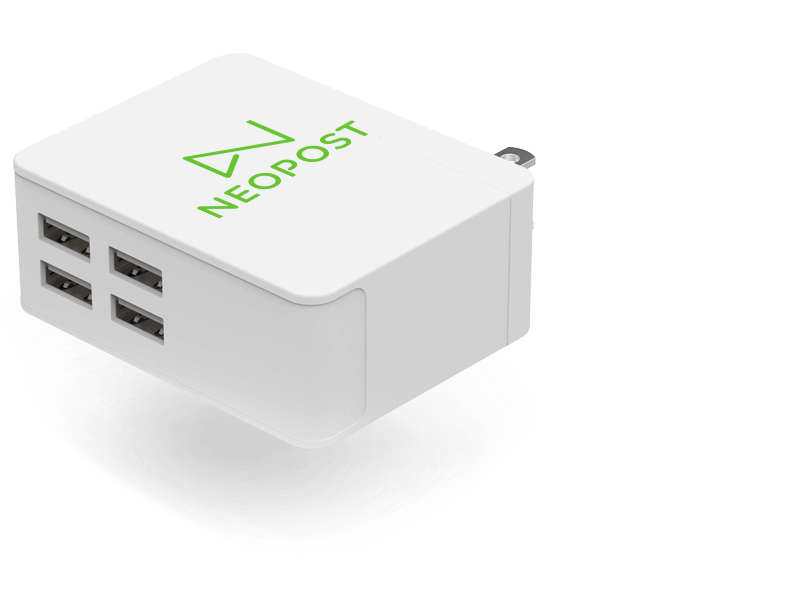 Udgangsoverstrøm og overspændingsbeskyttelse
Input overstrøm og overspændingsbeskyttelse
Overophedningsbeskyttelse
Kortslutningsbeskyttelse
Elektrostatisk afladning ( ESD ) beskyttelse
Egenskaber
4 USB ports for multiple-device charging


4 adapters to use in nearly every country worldwide


Light and portable


Handy travel case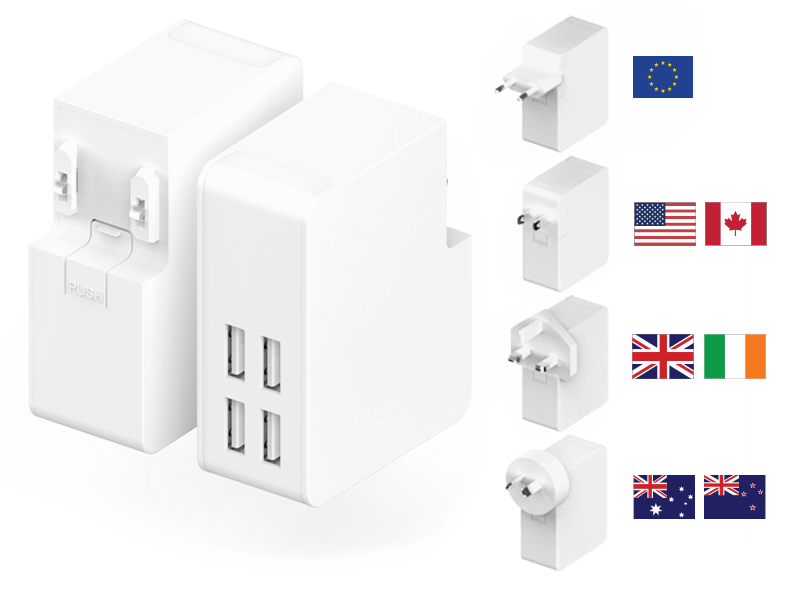 Hvordan de leveres
Your USB
Travel Charger

Dimensioner og vægt
Længde: 72mm (2.83 Tommer)
Bredde: 57mm (2.24 Tommer)
Højde: 30mm (1.18 Tommer)
Vægt: 180 Gram (6.35 Alm.)
Miljø
Hvor ikke synlig plast er anvendt til interne dele er disse fremstillet af 100% genbrugmateriale.

RoHS Dette produkt lever fuldt ud op RoHS direktivet (EU restriktioner for risikable genstande).