Blog Byg fantastisk kundeloyalitet ved at give gaver til kunderne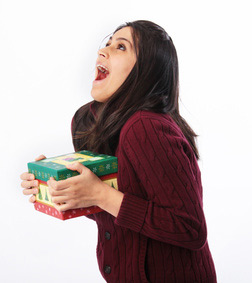 Undersøgelse efter undersøgelse viser at folk oftere laver købsbeslutninger på baggrund af følelser i stedet for behov.

Firmaer der positivt kan påvirke deres kunders følelser (lykke, glæde, begejstring, håb, osv.) bliver belønnet med utrolig kundeloyalitet.
Endvidere bliver nogle af disse kunder firmaets mest passionerede ambassadører.

Listen af succesfulde firmaer der positivt påvirker deres kunders følelser inkluderer Apple, Zappos, Johnson and Johnson, Ritz Carlton, and Disney.

Disse firmaer er succesfulde fordi de tilbyder bemærkelsesværdige produkter og en service der imponerer deres kunder.
Ting du kan gøre for at påvirke kunders følelser.
Ligegyldig hvilken branche du er i, kan du faktisk gøre meget for at påvirke dine kunders følelser positivt. for det første, fokuser på de ting du gør som berører dine kunder. Dette kan være dit produkt, din service, behandlingen af returvarer, udsmykning og renlighed i butikken osv.
Spørg dig selv om der er ting du kan gøre (til minimale økonomiske og tidsmæssige omkostninger) for at forbedre kundens oplevelse. Nogle gange kan selv små ting have stor indflydelse.

En sikker måde at påvirke dine kunders følelser positivt på er ved at give dem gaver!
Hvorfor gaver er den bedste måde at skabe positive følelser.
Som mennesker elsker vi at modtage gaver, anledningen er underordnet. Gaver får os til at føle os værdsatte og giver os derved en positiv følelse. Tænk på første gang du åbnede en fødselsdagsgave eller en julegave. Husker du glæden du følte da du rev indpakningen af? Forestil dig nu hvor meget en gave uden anledning ville begejstre os!
Samtidig med at du glæder dine kunder, den goodwill du opbygger igennem dine betænksomme gaver, vil gøre mere for dit firma en nogen reklame- eller markedsførings kampagne. Dit firma vil opleve flere gentagne køb og mere positiv omtale.

Derfor, skal gavegivning være en vigtig del af en hver markedsførings kampagne.
Ting du skal overvejes når du vælger gaver til dine kunder
Når du vælger gaver til dine kunder bør du overveje følgende:
Vælg gaver som du ved dine kunder vil benytte og nyde. T-shirts, kuglepenne og krus

indpræget med logo er stilløst og vækker ignen positive følelser hos kunden.

Kvalitet er vigtigt.
Vedlæg et håndskrevet brev eller kort der viser hvor meget du værdsætter jeres samarbejde.

Gaveideer til dine kunder
Gaver dine kunder vil nyde: gavekurv, vin, biografbilletter, gavekort til restaurenter osv.

En anden god gaveide er en USB stik!

Hvorfor en USB stik er en god gave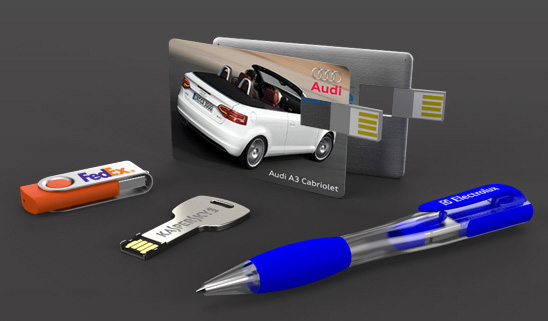 I den digitale tidsalder vi befinder os i er USB sticks populære blandt forbrugerne da de er nyttige til opbevare og dele billeder, videoer og andre digitale filer.
USB stiks findes i mange forskellige udgaver og kapacitets størrelser. Endvidere kan du tilpasse dem ved at indgravere eller imprinte dem med dit logo og kontakt information.

Siden USB sticks har lang levetid (mere end 10 år), vil dit brand opleve eksponering over lang tid.

Så ved at gove USB stiks til dine kunder generer du ikke bare goodwill men også fantastisk brand eksponering.
Del venligst dine erfaringer
Har dit firma gjort noget for at glæde jeres kunder på det seneste? Del venligst erfaringer i kommentarfeltet nedenunder!