Trådløse opladere er den næste generation af opladningsmetoder, som muliggør at du kan oplade din Qi-aktiverede enhed uden at skulle tilslutte et kabel til din telefon eller tablet. Vores Cirque-model kan udføres med dit logo, din hjemmeside eller andet budskab du skulle ønske at sprede.
6 Dages Leveringstid. Vi samler, trykker og levere din ordre inden for denne korte deadline!
Between Thursday, 23 Jan 2020 and Tuesday, 28 Jan 2020, this product has an extended lead time. Please contact us for details.
Fås fra bare 10 enheder
Uanset om du går efter en lille mængde, vil være venlige Account Mangers give dig den bedste service, de kan. Lav en henvendelse og få priser, grafiske opsætninger med dit eget logo, og vareprøver tilsendt. Ganske uforpligtende
Farver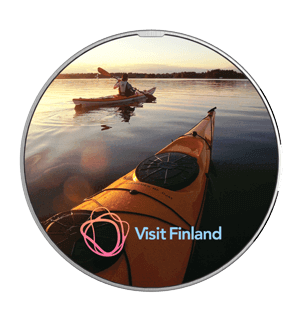 Sølv
Branding muligheder og print-areal

Fotoprint
Fotoprint
Viser at produktet kan laves i fuld farve med højkvalitets fotoprint. Logoet bør være hi-res og 300DPI. Du kan uploade filer som .pdf, png, jpeg eller .gif. Low-res billeder vil ikke give et godt resultat. Vore priser inkluderer altid print i fuld farve på alle printområder vist på produktbeskrivelsen.
Sikkerhed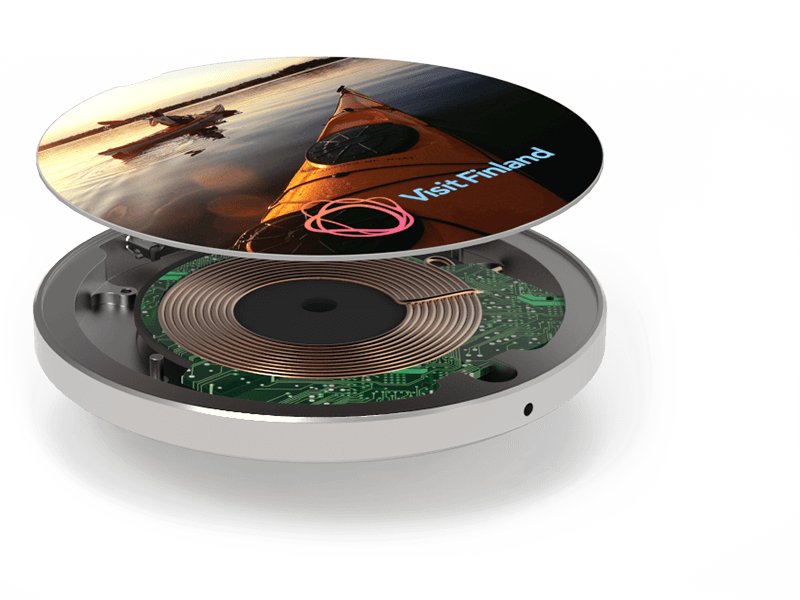 Udgangsoverstrøm og overspændingsbeskyttelse
Input overstrøm og overspændingsbeskyttelse
Overophedningsbeskyttelse
Kortslutningsbeskyttelse
Elektrostatisk afladning ( ESD ) beskyttelse
Egenskaber
Kompatibel med smartphones, der understøtter trådløs opladning: Testet med iPhone™ 8 og topmoddeler fra Samsung, Google, Microsoft, Sony, HTC, LG smartphones.


Output er 5 W trådløs opladning.


Elegant og moderne design


Tynd, let og portabel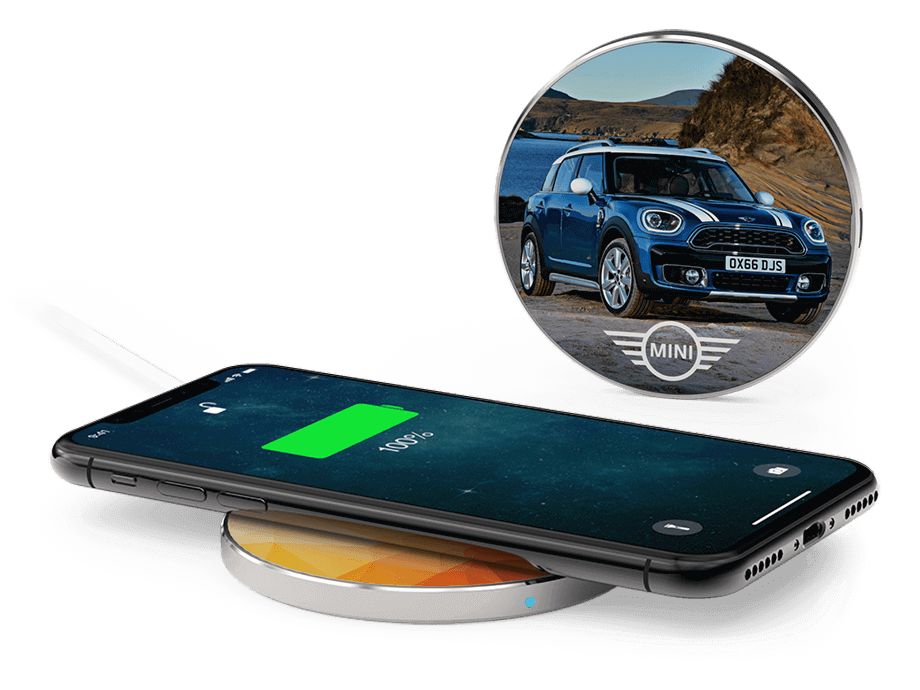 Hvordan de leveres
Micro-USB
opladninskabel

Tilbehør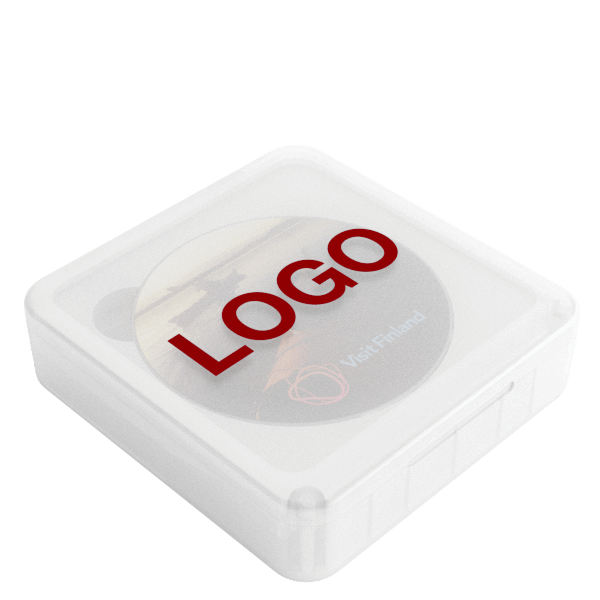 Magnet Box Wireless Charger
The Magnet Box Wireless Charger features a white foam insert that securely stores the Wireless Charger when it's not in use. The top lid can be closed via two small magnets and can be Screen Printed with your logo, website address and more. A fantastic accessory to use at your next Conference or Event.
Dimensioner og vægt
Længde: 76mm (2.99 Tommer)
Bredde: 76mm (2.99 Tommer)
Højde: 7mm (0.28 Tommer)
Vægt: 59 Gram (2.08 Alm.)
Miljø
Hvor ikke synlig plast er anvendt til interne dele er disse fremstillet af 100% genbrugmateriale.

RoHS Dette produkt lever fuldt ud op RoHS direktivet (EU restriktioner for risikable genstande).