×
Vores Card model er kompakt, smart og farverig. Det store overfladeareal er et stort lærred til at promovere dit brand i levende farver. Begge sider kan være foto trykt med dit logo, slogan eller billede. Kortet er udstyret med indbygget Micro USB kabel samt integreret Lightning adapter til opladning af iPhone™. Med en tykkelse på bare 7 mm, er det en bærbar og bekvem måde for dine kunder og klienter til at sikre, at de aldrig løber tør for batteri.
8 Dages Leveringstid. Vi samler, trykker og levere din ordre inden for denne korte deadline!
Hukommelseskapaciteter
2600mAh
Se hvor mange gange denne Power Bank kan
oplade disse populære enheder nedenstående:
*
Antal opladninger tager ikke højde for eventuel slitage af batteriet i smartphone, tablet eller eBook.
Farver
Hvid
Branding muligheder og print-areal

Printområdet angivet af

Fotoprint:
Areal forside: 96mm X 62mm
Areal bagside: 96mm X 62mm
Fotoprint
Fotoprint
Viser at produktet kan laves i fuld farve med højkvalitets fotoprint. Logoet bør være hi-res og 300DPI. Du kan uploade filer som .pdf, png, jpeg eller .gif. Low-res billeder vil ikke give et godt resultat. Vore priser inkluderer altid print i fuld farve på alle printområder vist på produktbeskrivelsen.
Sikkerhed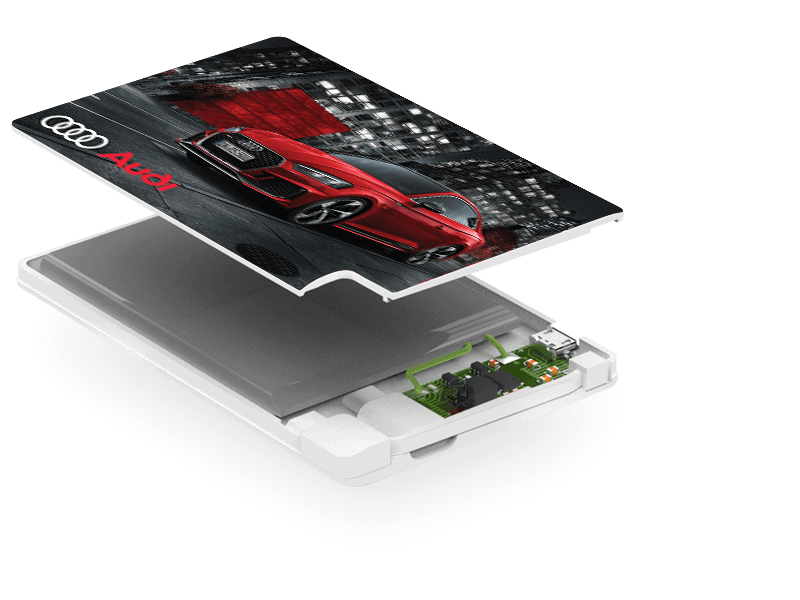 Udgangsoverstrøm og overspændingsbeskyttelse
Input overstrøm og overspændingsbeskyttelse
Overophedningsbeskyttelse
Kortslutningsbeskyttelse
Elektrostatisk afladning ( ESD ) beskyttelse
Hvordan de leveres
Lightning &
USB-C Adapters
Micro-USB
opladninskabel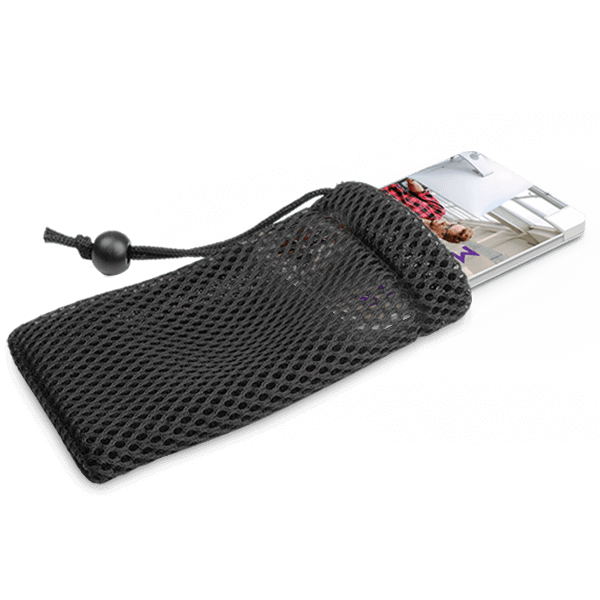 Fabric Bag
Made from a protective mesh fabric that's soft to the touch, the Fabric Bag is a handy accessory that will protect the Branded Power Bank when its not in use. The drawstring mechanism at the top of the Fabric Bag ensures the Power Bank remains securely enclosed at all times.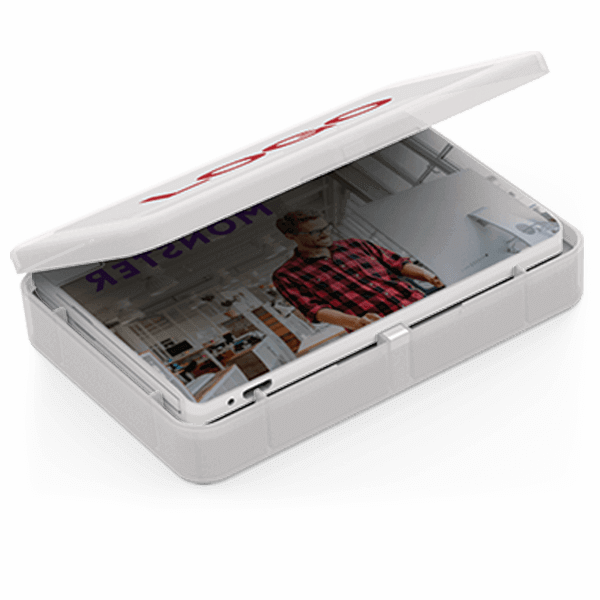 Magnet Box Power Bank Card
The Magnet Box Power Card protects and stores the Branded Power Bank Card when it's not in use. Featuring a secure magnetic clasp, the lid can be branded with your logo, slogan and website address. The interior features a custom-fit foam that keeps the Power Bank Card firmly in place.
Dimensioner og vægt
Længde: 96mm (3.78 Tommer)
Bredde: 62mm (2.44 Tommer)
Højde: 7mm (0.28 Tommer)
Vægt: 60 Gram (2.12 Alm.)
Tekniske specifikationer
Input: 5V/1A, Output: 5V/1A
Battery Type: Lithium-ion
Full Charge Time: 3 Hours
Miljø
Hvor ikke synlig plast er anvendt til interne dele er disse fremstillet af 100% genbrugmateriale.

RoHS Dette produkt lever fuldt ud op RoHS direktivet (EU restriktioner for risikable genstande).